How Much Does Carpet Cleaning Cost?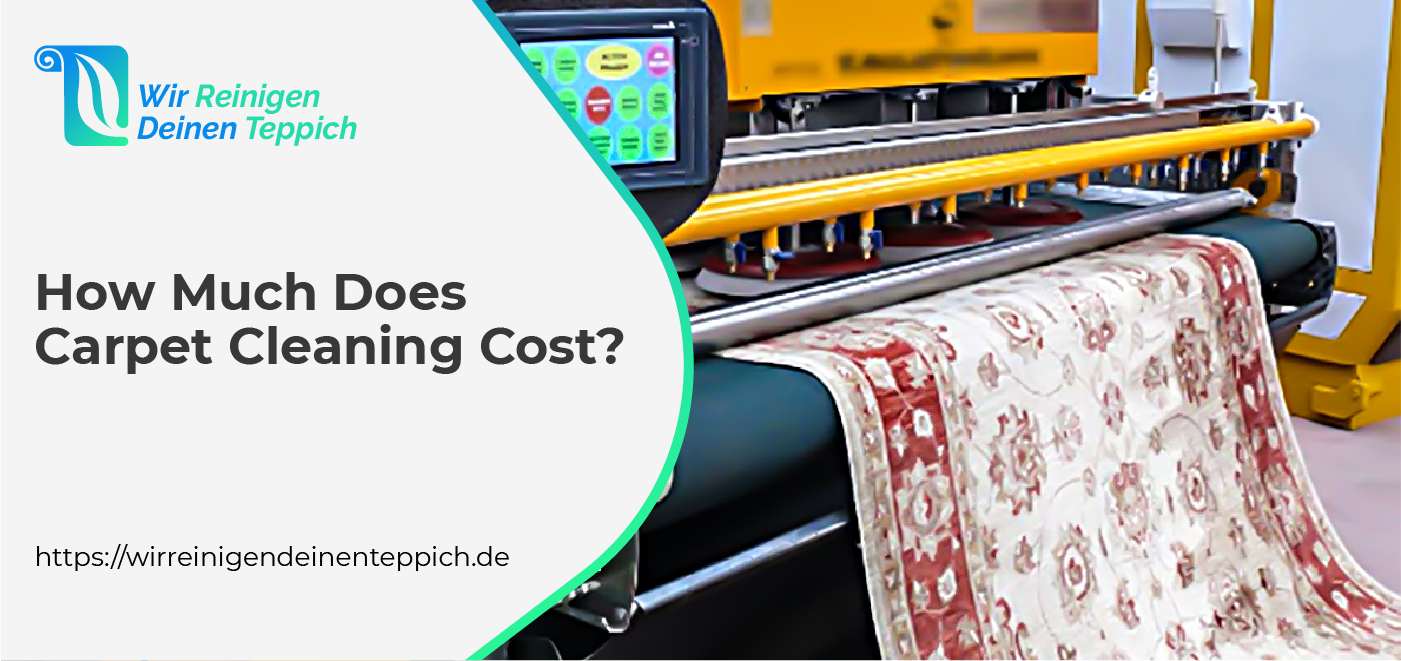 When it comes to getting your carpets cleaned, there is much more to it than just a regular vacuum clean. You require the right equipment, detergents as well as people who are well equipped to understand what kind of stain or dirt needs what type of cleaning. People get their carpets professionally cleaned more than you know, and there is a reason why. But are you wondering if it's worth it? Is it worth the price you give for quality, and what all does the service include?
This blog is going to answer your questions about:
The cost of carpet cleaning 

An understanding of the service, so you can know what you're paying for.

And how expensive is carpet cleaning really?
Ready? Let's start!
Factors that Affect Cost of Carpet Cleaning
Cost of carpet cleaning depends on several factors which are always taken into consideration. These include:
1. Carpet Sizes: The size of your carpet is a huge factor in the cost as this helps not only the price estimation but also the time needed to thoroughly clean the carpet. 
2. Material: This is crucial in determining cost as depending on the material, the cleaning method is decided. For example- Hard woven carpets are extremely delicate so need only dry cleaning whereas other standard one can be steam cleaned. 
3. Additional Services: If you want stain protector, deodorizer, urine treatment or disinfection treatment the cost of carpet cleaning adds up for these additional services. 
With Wir Reinigen Deinen Teppich, you can opt for carpet cleaning by choosing the right option for you on our order page. Not only that, but we also ensure convenience for you as you can schedule and choose the right time and day most appropriate for you. 
Our Carpet Cleaning Cost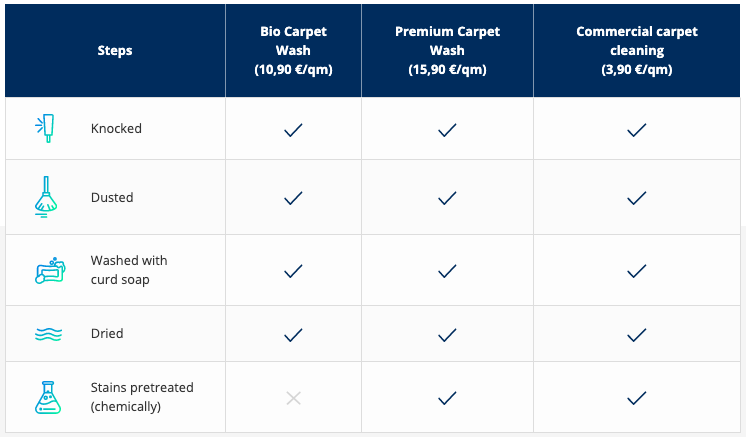 Additional Services:
Urine Treatment (5€/ sqm)
Moth Treatment (5€/ sqm)
Disinfection (5€/ sqm)
Impregnation (5€/ sqm)
What's Included in the Cost you Incur for Carpet cleaning and What to Expect from it?
Pre Inspections to identify the material and afterwards choosing the most suitable cleaning method for your carpet.
Next, we undertake carpet beating which removes any dirt or grit stuck into the fibres.
We perform de-dusting on carpets with specialized high-powered equipment that target any dust, mites, allergens and particles that may be stuck in the carpet, something that can't come out with regular hand washing.
We use alkaline carpet cleaning soap for aggressive cleaning.
Then, we dry clean the carpet that removes dirt and makes it clean and soft.
Our stain pre-treatment is part of our premium carpet cleaning that removes stains effortlessly.
How Expensive is Carpet Cleaning?
There are so many cleaning products on the shopselves nowadays it can be extremely overwhelming. Each product claims to restore your carpet to its original form. Although, to choose the right product you need to know what material your carpet is made of, otherwise you can permanently damage your carpet.
Another aspect is should you buy a machine or rent one? Sure, your carpet might look clean after the procedure, but that will only be on the surface, and dirt would still be stuck in the fibres.
You also need to be aware of proper cleaning techniques. If the carpet is not cleaned properly and is still wet, it could give rise to a lot of mould, dirt as well as smell bad, resulting in more time wasted, frustration as well as a damaged carpet.
Taking into consideration all these factors, it makes sense to say that no professional carpet cleaning is not expensive.
As they say- if you think it's expensive to hire a professional to do the job, wait till you hire an amateur.
It is for this reason that we highly recommend you book a professional carpet cleaning today!
Ali June 24, 2020 Carpet Cleaning
Previous Post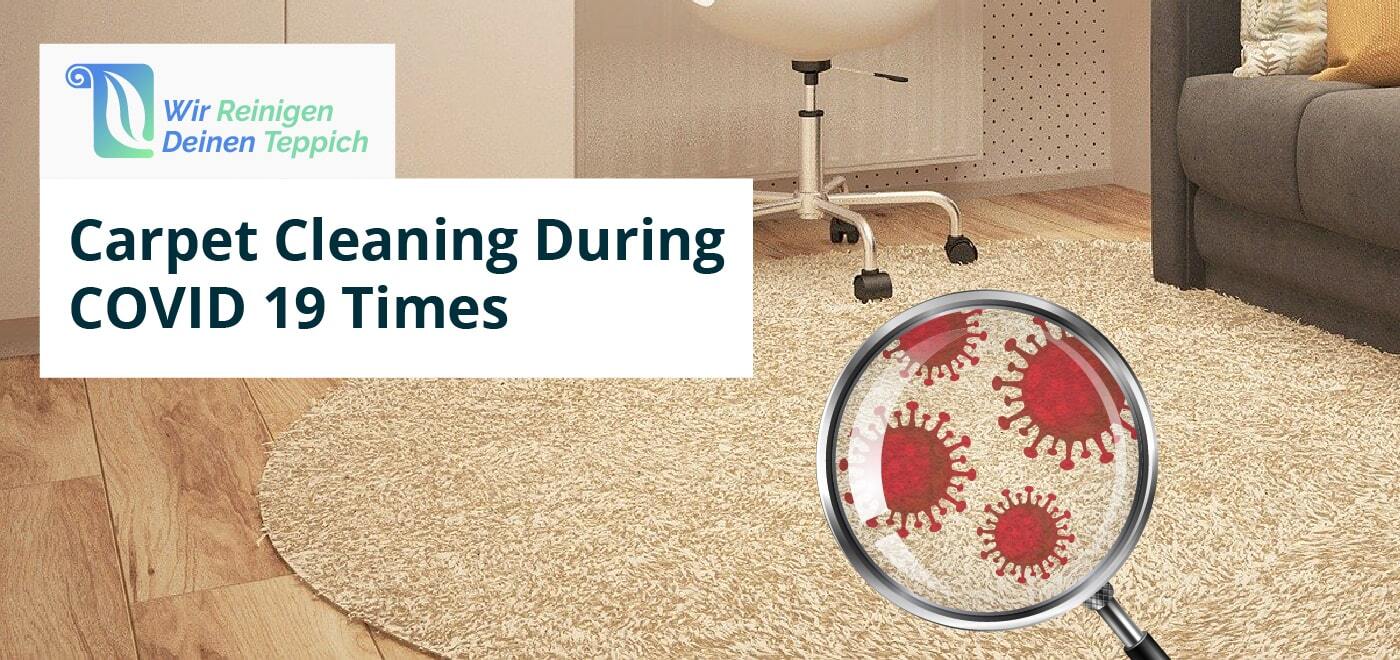 Healthy living, to a safe home. Carpet cleaning helps to fight the spread of germs and viruses by not only cleaning and disinfecting the surface of your home. We know that many people are thinking about having their carpets cleaned during the current coronavirus pandemic. According to experts, cleaning visibly soiled surfaces followed by disinfection […]
Read More...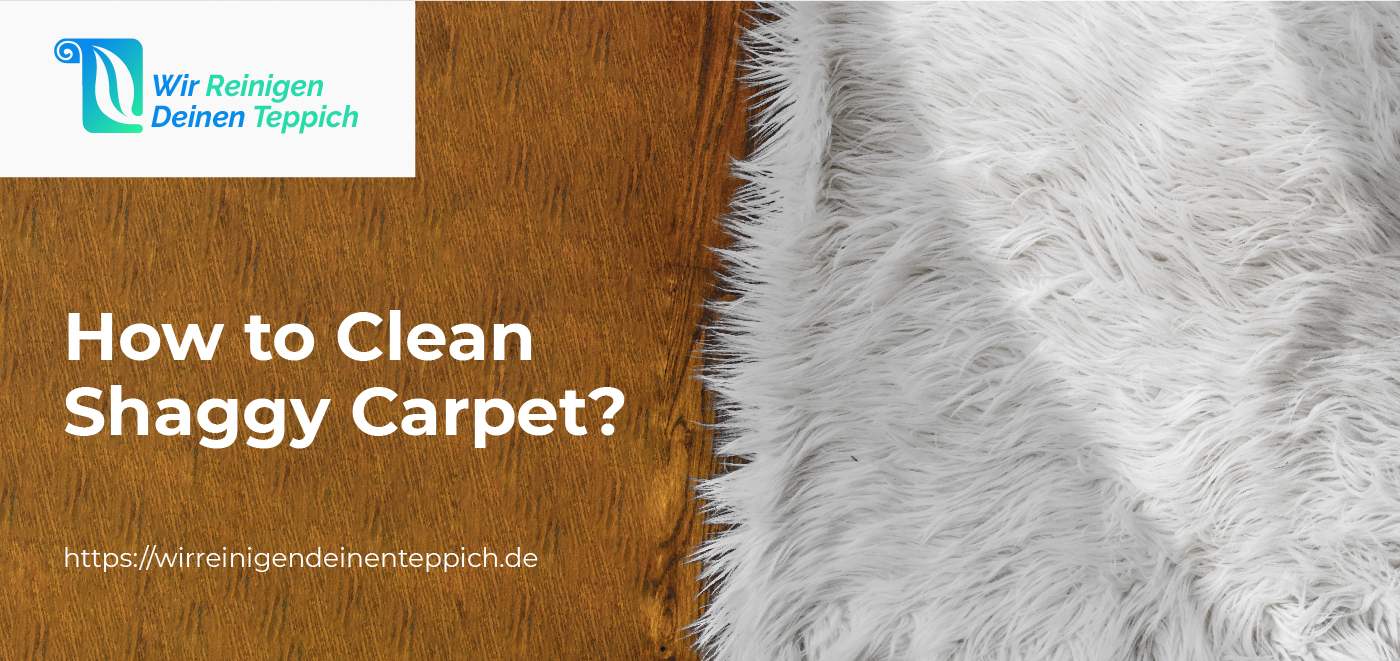 Simplistically modern, classy, soft and fluffy, all these characteristics perfectly describe a shaggy carpet. The fibres in shaggy carpets are much longer than regular ones, which is why they are more prone to trapped dust and dirt, hence making them more difficult to clean. To make sure you keep your shaggy carpets looking clean and […]
Read More...